I've been running around like crazy since that last Wednesday post. Berlin's actual Birthday was on Thursday. I had a ton of errands to run on Thursday and Friday before Berlin's party on Saturday. My mom flew in on Thursday. I had to pick my dad up at the airport on Friday (he was gone visiting his mother who just had surgery) and pick up more stuff with him. Then we had the actual party on Saturday, which was a blast but exhausting. Sunday I spent the day with my mom because it had been nine months since we'd last seen her (moved to Arizona in January) and she has to fly back today.
Boy! You'd think I could finally relax today but that's just not going to happen. I'm now faced with seeing my mom off, getting some work done, sending out thank you notes, sending out our professional pictures we had taken a couple weeks ago, a house that is freshly covered with new toys, a pile of new clothes to wash and put away, and upcoming appointments for both me and my daughter (I know they are coming up fast but I don't remember when!)
I'm definitely in need of a list! I'm a serial lister - need to have one going all the time to function. Now that the party is over I can finally get rid of the monster list I had going for that and deal with something smaller. Whew!
I'm hoping I'll have enough time to write today and tomorrow to catch up but so far my word count for the week isn't where it should be. How is everyone else doing?
And, before I conclude this, one of my favorite pictures from the party. My dad got her this.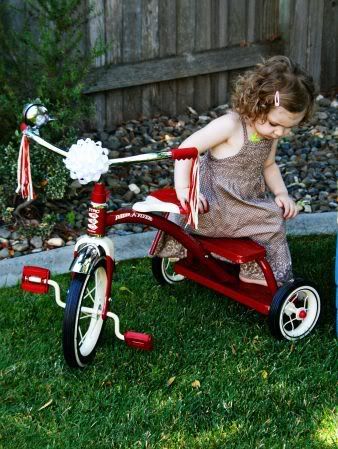 Love the retro tricycle!